Meet Our Doctors & Team
Take a couple of minutes to meet and get acquainted with the caring and compassionate team at Dentcare Now in Fairfax by reading each of their biographies. You'll learn a little bit about our doctors and team members, including their education, work experience, and professional associations. Then you'll see why we are such a good fit for your needs. We truly look forward to meeting you and having the opportunity to serve you, as well as your family!
Rasheeda Johnson, DDS, MBA, MICOI, MAAIP
Virginia Dental License #: 0401416386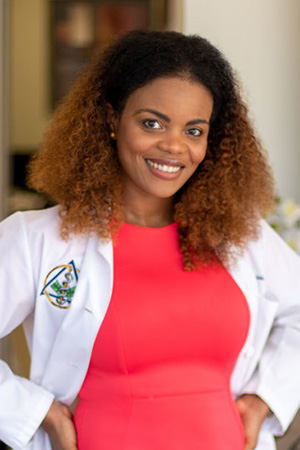 Rasheeda Johnson has spent most of her life in a dental office. Since adolescence she has shadowed and worked as a certified dental assistant in her mentor's dental practices. This early exposure to the dental profession created a desire to pursue a career in dentistry.
Dr. Johnson began her career at Hofstra University where she majored in Health Science. Following graduation, Dr. Johnson completed her dental education at Howard University College of Dentistry. She went on to complete a one-year General Practice Residency at Nassau University Medical Center, which strengthened her surgical and emergency medicine skills. Never one to slow down, Dr. Johnson has also earned a Master of Business Administration with a Marketing Specialization from Louisiana State University Shreveport.
As a visionary, she has enhanced her expertise by expanding into multiple branches of dentistry including Six Month Smiles® orthodontics and implant surgeries. Currently, Dr. Johnson is certified to administer Oral and IV sedation, and BOTOX® for TMJ symptoms. Dr. Johnson has received her Fellowship and Mastership from the International Congress of Oral Implantologists (ICOI) and the American Academy of Implant Prosthodontics (AAID). Dr. Johnson is a member of the American Academy of Facial Esthetics (AAFE), International Congress of Oral Implantologists (ICOI), American Academy of Implant Prosthodontics (AAIP), American Dental Association (ADA), and the Academy of General Dentistry (AGD).
Her extensive knowledge and expertise in these areas have allowed Dr. Johnson to exceed patients' expectations by delivering excellent customer service and quality of care. She has worked in various settings, not limiting who and where she provides service.
Dr. Johnson can be described as friendly, caring, personable, and passionate about patient care. She understands that each person has a unique personality with specific dental needs and treats each patient accordingly. When Dr. Johnson is not at the office, she dedicates her time to Dental Helping Hands, a nonprofit organization she co-founded, responsible for providing free dental services in developing countries. On a personal level, Dr. Johnson enjoys physical fitness, traveling, and spending time with her loved ones.
Dominique Bonner, DDS Formerly Dominique Knox, DDS
Virginia Dental License #: 0401415681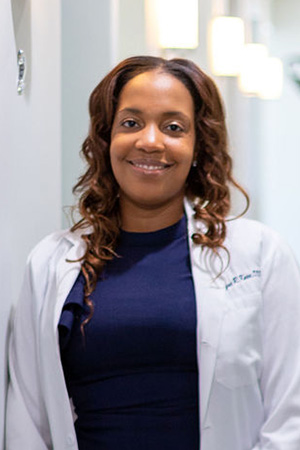 Dr. Dominique Bonner (formerly Dr. Dominique Knox) was born and raised in Illinois where she discovered her love for dentistry at a very young age through her passion for making others smile. Dr. Bonner migrated to Washington D.C. where she obtained her undergraduate degree and Doctorate of Dental Surgery (DDS) from Howard University; she went on to complete her General Practice and hospital dental residency at Bronx Lebanon Hospital Center in New York.
Dr. Bonner currently serves on the Board of Directors for Lynn's Gift-a non for profit organization dedicated to providing empowerment, resources, and enrichment to the community. In addition to this, she has continued her dental education and is certified in administering BOTOX® for facial and TMJ pain.
In her spare time, she enjoys traveling and fitness. Dr. Bonner is a profound believer in preventative and conservative dentistry. She works closely with her patients to create life-long dental plans that promote comprehensive oral health and confident smiles.
Dr. Bonner is an active member of the following dental associations and organizations:
Meet Our Team
Dentcare Now is able to provide the highest quality care thanks to an incredible team of dedicated, friendly, and knowledgeable individuals. Whether it is our hygienists or assistants, office managers, or administrators, each team member helps our practice run smoothly and works with a shared commitment to our patient's oral health, comfort, and overall well-being. Take a few minutes to meet the team at Dentcare Now.
Bessy Ferrufino
Registered Dental Assistant (RDA)
"Today is your opportunity to build the tomorrow you want"
Bessy graduated from Prince George's Community College in 2018 with an Associate of Arts degree in General Studies, later in 2019 she graduated from Fortis College as an Expanded Functions Dental Assistant. Bessy is always looking for ways to expand her knowledge and is currently working towards her Bachelor of Science degree.
She loves traveling, volunteering, and of course Dentistry. Bessy was born and raised in Honduras where she grew an interest in helping the underserved. She is bilingual and enjoys translating for our Spanish speaking patients.
Shar Sohi
Dental Assistant
"Always believe something wonderful is about to happen."
Shar Sohi is a graduate of Western Michigan University. She received her Bachelors of Science in Interdisciplinary Health Services. She speaks Punjabi and Hindi and welcomes patients from the Punjabi and Hindi speaking community! Shar was exposed to health care when she started working as a Phlebotomist at Bronson Methodist Hospital in Kalamazoo, MI. She looks forward to continuing her education while working and learning alongside her team at Dentcare Now. In her spare time she enjoys exercising, cooking, yoga, traveling, and spending time with her friends and family.